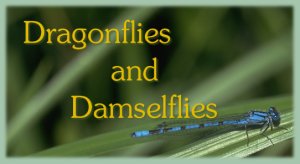 A Guide to this Web Site

These pages are about Dragonflies and Damselflies in the UK - particularly in North Buckinghamshire. I moved to Southern France in 2003 and you may like to read the web pages about Dragonflies in Languedoc. There are seven main sections to the UK based site.
| | |
| --- | --- |
| | This gives a brief narrative describing why I became interested in Dragonflies and Damselflies along with a few useful links. |
| | Here you will find a diary of site visits made by me during earlier years. As I no longer live in the UK there will be no further updates to this section. |
| | Milton Keynes in North Buckinghamshire has many good Odonata sites. This section describes some of them. |
| | All eighteen species of Odonata found in Milton Keynes are described in detail here. |
| | This is a simple key to the species described. It has been designed for use by the amateur and I have tried to avoid "jargon" wherever possible. |
| | There are many photographs of Dragonflies and Damselflies in these pages. You will find links to them at appropriate places and they are also tabulated here. They have all been saved as true colour JPEGs and for best results should be viewed with at least a high colour mode setting. They are viewable in 256 colour mode but won't look as good. |
| | Links to other dragonfly and damselfly related sites and a list of books can be found here. The links and the bibliography relate mainly to British and Irish sites and books. |
---
| | |
| --- | --- |
| | You might also like to look at my personal home page! |









Dragonfly Home Page | Introduction | Dragonfly Descriptions | Dragonfly Diary | Site Descriptions | Identification Key | Picture Index | Links & Bibliography
Unless specifically stated otherwise, all photographs on this web site are copyright G H Mahoney. See the
About this site
page for fair usage information.
This page last updated
If you have any comments about this site please email george @ ghmahoney . org . uk