I spent the first two weeks of April, 1997 on holiday in Texas with members of the Milton Keynes Natural History Society. This was a mixed group representing various interests including flowers, birds, butterflies and, in my case, dragonflies.

I had high hopes of seeing many new species (to me) and of practising my identification skills. Field guides to Odonata in the USA are very hard to find. There are some pictures and descriptions in the Audubon Society Field Guide to North American Insects and Spiders but that was pretty well the limit of what I could get hold of. Luckily the Internet came to the rescue! There is an excellent site, Ode News, maintained by Jackie Sones, which is dedicated to the Odonata around Cape Cod. Blair Nikula has put some excellent pictures of North American species on these pages and they have helped me considerably with verification of identification.

The weather was very strange in the USA in April! Many states suffered unseasonably cold weather, together with thunderstorms and snowstorms. We did not escape in Texas. We had many overcast days and a great deal of heavy rain at times. Some sunny days near Corpus Christi and in the Hill Country north of San Antonio made up for this, but the incidence of dragonflies and damselflies was significantly affected.

We visited several state parks and wildlife refuges and saw a wide variety of bird life. For the first time on holiday, I saw more than 120 different species. Perhaps the most entertaining was a Roadrunner at Boerne, near San Antonio. The alligators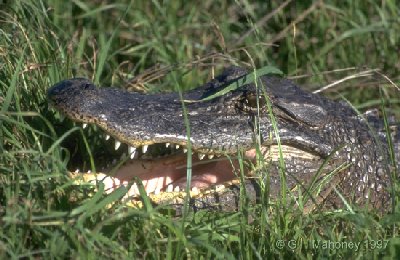 at Brazos Bend SP and Aransas NWR were exciting too! We also saw White-tailed deer, Turkeys, many species of butterfly, terrapins, several different species of Egret and were entertained hugely by the squirrels at Brazos Bend.
Odonata seen included scarlet bluet Enallagma pictum (Blair Nikula has pointed out that this is unlikely given the distribution of the species and has suggested that it may have been E. signatum); northern bluet (common blue damselfly in UK) E. cyathigerum (again, Blair suggests that E. civile is more likely as cyathigerum has not been confirmed from Texas); citrine forktail Ischnura hastata; Rambur's forktail I. ramburii; eastern pondhawk Erythemis simplicicollis; variegated meadowhawk Sympetrum corruptum; red-veined meadowhawk S. madidum (or possibly variegated meadowhawk S. corruptum); Carolina saddlebags Tramea carolina; black saddlebags T. lacerata; common whitetail Libellula lydia; green darner Anax junius and several other unidentified species.
The most interesting of these was probably the eastern pondhawk. I saw large numbers of this attractive dragonfly at Brazos Bend SP, near Houston. The male and female are so different that I believed them to be two different species until I checked the identification with Blair Nikula's photos. The male is blue with a greenish thorax but the female is mainly green with a black abdomen with yellowish-green spots. A really attractive species.
I would appreciate confirmation (or otherwise) of species illustrated. As I mentioned before, obtaining decent reference material proved very difficult in the UK.