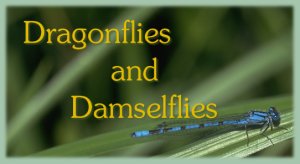 Site Visit Diary
The first half of 1998



An unusual Sunday for June. It was actually sunny! As usual this site had a good selection of species. Red-eyed and White-legged Damselflies were found in good numbers along the banks of the River Ouse. There were also many Banded Demoiselles. Blue-tailed Damselflies were abundant. Several of the colour forms of the females were found. These included the pink, rufescens form, the lilac violacea, the brown infuscens and the typical blue form. Both Azure and Common Blue Damselflies were also abundant. All the species of Damselflies were seen in cop or flying in tandem.

The larger dragonflies were represented by a single Brown Hawker, 3 Black-tailed Skimmers and several Four-spotted Chasers.

Nine species were seen in total.
| | |
| --- | --- |
| | This usually excellent site is also slow to start this year. Very poor weather during the previous week probably accounts for the low species count. It is really unusual to see only a single specimen of Emperor Dragonfly here. There were fair numbers of Four-spotted Chasers and Azure and Common Blue Damselflies. Less Blue-tailed Damselflies than I would have expected and a single, male, Large Red Damselfly. |
| | |
| --- | --- |
| | A short, evening visit to the River Ouse at Haversham in an attempt to exploit a rare glimpse of the June sun only turned up three species. Very disappointing for the site and the time of year. Banded Demoiselle, Azure and Blue-tailed Damselflies were the only species found. |
Orton Brick Works, near Peterborough
7 June 1998



This was a trip organised by the Northampton Local Group of the British Dragonfly Society. Half a dozen members went looking for Variable Damselfly (Coenagrion pulchellum) and Hairy Dragonfly (Brachytron pratense). The weather was against us as it was very windy and showery. We saw many Common Blue Damselflies, a few Black-tailed Skimmers and Four-spotted Chasers. We also had glimpses of what were probably Hairys, flying low and quick amongst the tops of the marginal vegetation but had to abandon the visit because of heavy showers.
| | |
| --- | --- |
| | My first chance to go seeking odonata since returning from holiday. I saw five species of damselfly on this cloudy, but fairly mild day. Good numbers of Azure and Blue-tailed were on the wing as were a few Red-eyed and Large Reds. I saw just three White-legged Damselflies, two females (f. lactea) and one male. |
| | |
| --- | --- |
| | The first really nice day of spring tempted me out on a lunchtime visit to the ponds near Howe Park Wood in Milton Keynes. Several large red damselflies were observed, many still with the milky wings of newly emerged "teneral" individuals. |
British Dragonfly Society (Northampton Local Group)
16 February 1998



Not exactly a site visit but an indoor meeting of the local group of the BDS held at Lings House, Northampton. Richard Eden had invited Steve Cham, odonata recorder for Bedfordshire, to talk to us about indentification of exuviae. This is a subject in which I have always been interested but have found very difficult. Steve brought along his extensive reference collection and took us through the key points of all the dragonfly and damselfly species known from our area and several species not known to breed but which could possibly be found.

Steve showed us, on specimens, which features to look for and gave us some insight into the "jizz" of the things. It was very useful to be able to see the specimens first hand. This made the information in larvae and exuviae keys much more understandable.

I have a particular interest in learning more about this area of study as I am hoping to carry out some site survey work in the Milton Keynes area over the next few years and one of the important factors is to establish proof of breeding. This is only accepted when larvae, exuviae or emerging adults can be found.

When I got home, I tried out the techniques learnt on a few of the specimens that I have collected and feel confident that I am now able to identify them with some degree of certainty.









Dragonfly Home Page | Introduction | Dragonfly Descriptions | Dragonfly Diary | Site Descriptions | Identification Key | Picture Index | Links & Bibliography
Unless specifically stated otherwise, all photographs on this web site are copyright G H Mahoney. See the
About this site
page for fair usage information.
This page last updated
If you have any comments about this site please email george @ ghmahoney . org . uk