Description
The males of this species are bright red, a colour which extends into the wing veins, hence the common name. The wings are suffused with yellow near the base. In females the wing veins are yellowish but otherwise they are quite difficult to separate from other Sympetrum species. The pterostigma has a broad black border. They breed in lakes and other large, shallow water bodies and can often be found near rice paddies. On the wing from May through to November.
Male Red-veined Darter resting near to Lac du Salagou. Note the obvious, bright red veins in the wings.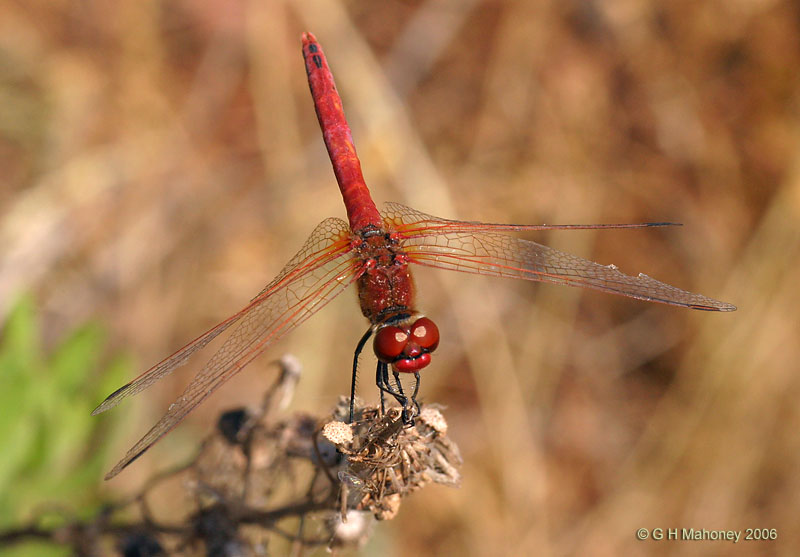 Head-on view of male Red-veined Darter resting near to Lac du Salagou.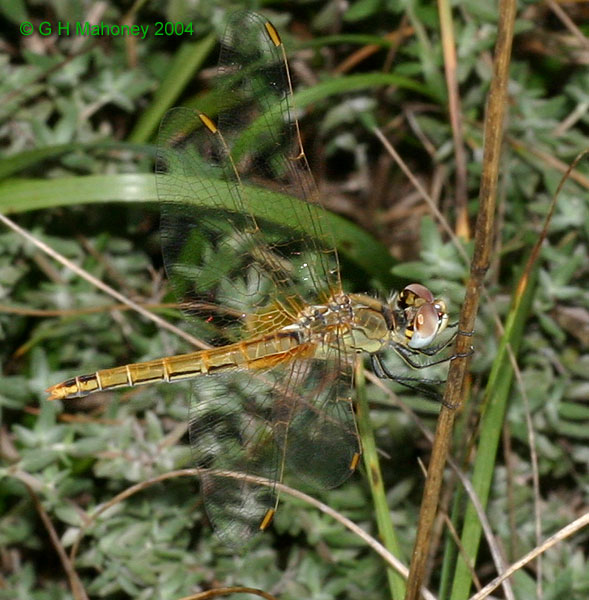 Female near Castelnau-de-Guers, Hérault, 11th September 2004
Observations
08/07/2004 About 10 males noted near Lac du Salagou, Hérault (34).
22/06/2006 Solitary male at Lac du Salagou (34).
29/04/2007 3-10 seen including pairs in cop and ovipositing at Lac du Salagou
22/05/2007 30-100 at Lac de Vésoles including pairs in wheel, tandem and ovipositing
24/05/2007 3-10 males seen at the Plan d'Eau at Lunas
24/05/2007 3-10 males near the River Orb at Hérépian
08/06/2007 1 female at the Scamandre reserve in the Petit Camargue
10/06/2007 Solitary female at the Parc Ornithologique, Pont de Gau in the Camargue
22/06/2007 3-10 males and females seen at the Lac de Vésoles
27/10/2007 Male seen in the Forêt de l'Usclade above Lamalou-les-Bains
10/07/2008 Male and female at the Plan d'eau near Lunas. Female quite tattered and worn.
16/05/2009 10-30 males and a few females including an ovipositing pair at the boating lake at Lunas (34).
---
If you have any comments about this site please email george @ ghmahoney . org . uk
Unless specifically stated otherwise, all photographs on this web site are copyright © G H Mahoney. See the About this site page for fair usage information.
This page last updated 11/04/2005